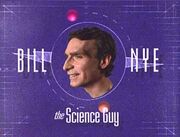 Bill Nye the Science Guy is an educational television program that originally aired from September 10, 1993 to June 20, 1998, hosted by William "Bill" Nye and produced by Buena Vista Television. The show aired on PBS Kids and was also syndicated to local stations. Each of the 100 episodes aims to teach a specific topic in science to a preteen audience. The show is frequently used in schools as an education medium, and it still airs on some PBS stations for this reason.
Created by comedian Ross Shafer and based on sketches on KING-TV's sketch program Almost Live!, Bill Nye the Science Guy was produced by Disney Educational Productions and KCTS-TV of Seattle.
Bill Nye the Science Guy won nineteen Emmy Awards during its run.
The show ran about the same time as and covered similar topics to Beakman's World, in fact sharing one crew member, editor/writer/director Michael Gross.[1] Before this show, Bill Nye had previously worked alongside Christopher Lloyd in Back to the Future: The Animated Series, where Nye played Doc Brown's assistant and demonstrated several experiments.
Bill Nye the Science Guy has been likened to the next generation version of Watch Mr. Wizard.Bill's TV persona is a tall and slender scientist wearing a blue lab coat and a bow-tie.[4] He mixes the serious science of everyday things with fast-paced action and humor. Each show begins with Bill walking onto the set, called "Nye Labs", which is filled with scientific visuals (including many "of science" contraptions announced dramatically, such as "The slingshots of Science!") relevant to the topic of the show. Most episodes contain a mock song parody and music video in the "Soundtrack of Science" by "Not That Bad Records", substituting a scientific roundup of the episode for the lyrics to a popular song. Each show ends with Bill explaining his departure in a clever description of an activity on topic. The credits sometimes rolled next to a series of outtakes from the episode.
Another popular member of the cast is the announcer Pat Cashman, whom Nye knew from his time on Almost Live!. Some announcers who subbed in for Cashman include Ernie Anderson, Gary Owens, and Brian Cummings. In 1996, Bill made a guest appearance onCartoon Network's talk-show Space Ghost Coast to Coast in its twenty-fourth episode, Boo! with Michael Norman. A year later, he made an appearance on PBS Mister Rogers' Neighborhood.
Characters
Bill Nye- The presenter of the show.